"If we can simply witness the destruction of another culture we are sacrificing our own culture." 1984 Group Material Call to Artists.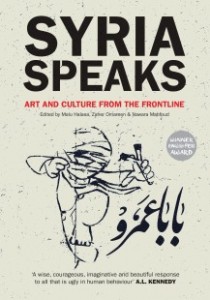 In the defense of humanity in the midst of bestiality, of creativity in the midst of destruction, of non-violence in the midst of violence, the example of the creative voices of Syria is inspiring.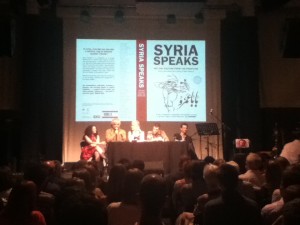 In London in early June, I had the good fortune of hearing several Syrian artists discuss the explosion of free expression in all media since the uprising against the oppressive government of Bashar al-Assad began in Syria in the spring of 2011. The program was in honor of the launch of the book of the same name published by English Pen. English Pen is an impressive activist organization that "defends the rights of writers at risk." The book is a potent mix of personal experiences and extraordianry art, poetry, and music (of which we are given the lyrics). As I read it, I felt  both heartbroken at the destruction of the country and deeply moved by the perseverance of the Syrian people.
Lens Young, an anonymous collective of citizen photographers based in many cities, most clearly show us the juxtaposition of the beauty of life, the destruction of life, and the efforts for survival and return to normal life. Here is a link to their facebook page in Homs and Damascus and here are some of their deeply moving photographs that juxtapose war's destruction and everyday life. Notice the tiny flowers on the balcony in the last photograph.
There are also explicit accounts of the destruction of a comfortable middle class life for a larger purpose: freedom of expression. I found myself identifying with these middle class writers,and wondered just how courageous I would be if my door was knocked down, and I was taken to prison and tortured for what I was doing.
The moderator of the panel in London was Malu Halasa, one of the editors of the book. Halasa and her fellow editors, Zaher Omareen and Nawara Mahfoud, have brought together an incredible collection of poetry, journalism, analysis, history, short stories, painting, pop music, graffiti, photographs, cartoons, installation, sculpture, printmaking, banners, film, stencils, and even finger puppets. Much of the work can be viewed online.
Schoolchildren began the uprising in Deraa, Syria by writing on a wall:  "Al-shaab yurid isqat al-nizam" ("The people want the fall of the regime.") one of the slogans from Tunisia and Egypt. The children were arrested and tortured, leading to the first protests and soon an uprising. In Deir al-Zour, in the stadium, a huge collective demonstration non-violently protested forty years of oppression. At the same time, the first creative expression emerged, banners by a collective Kartoneh, on black paper with symbols of the city and protest statements.
But the resistance and massacre of civilians in Syria did not begin in 2011. "Hama'82" with which the book begins, with both an anonymous image and a brief discussion, refers to the first massacre, by Bashar al-Assad's father, Hafez, who attacked the city in February of that year in response to violent resistance to Baathist rule by members of the Muslim Brotherhood. The government slaughtered thousands and thousands of people. Public discussion of this massacre has been forbidden for forty years.  In Homs, in the recent uprising, the government once again struck brutally, bombing, among other places, an underground journalists agency filled with citizen journalists, and killing among others, the well known Marie Colvin, a journalist with the Sunday Times.  
At the panel in London, I sat next to a young woman from Homs. She was in Wales at a university, obviously to escape the nightmare. She said that her home had been entirely destroyed, and they had even taken the family photographs, a fact she repeated several times, as if she was still in shock. She had traveled all the way from Wales  to attend the panel. 
To understand the full context and history behind the current uprising from a cultural perspective, miriam cooke's Dissident Syria, is essential reading. She outlines how intellectuals were in constant danger throughout Hafez's rule, both being co-opted to support the regime, and trying to maintain a subversive dissident position. Many went to prison and died as a result. Her book examines the prison literature of the 1990s as well as film and visual art.
Syria Speaks, as a book, was preceded by two exhibitions organized in Europe, "Syria's Art of Resistance," and "Syria Culture in Defiance." Here is the image from the second with the portraits of martyrs to the uprising and the cover of the catalog of the Art of Resistance, available as a downloadable pdf. 
Many of the artists included in these exhibition are presented in the book. One of the best known and most radical is Yousef Abdelke, his extraordinary paintings here presented as photographs with only the artist's head, never full face, by Nassouh Zaghlouleh.  The painter was imprisoned in the summer of 2013, but was released after about a month, probably as a result of a huge international protest.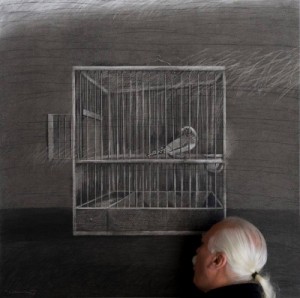 The poignent title of this chapter is "Youssef from the Inside: When you stab the ground a sparrow dies too"
But, rather than despair, there was an odd euphoria among these creative people, that they could finally speak openly -although still at great risk of imprisonment, torture, and death. One panelist is in prison and was represented by a photograph. He was Mazen Darwish, a founder of the bold Syrian Center for Media and Freedom, an organization that published banned documents from the outset of the uprising, and communicated with the international media. His letter "Letter for the Future" on receiving the Bruce Kreisky Prize for Services to Human Rights ( and smuggled out of a prison in Damascus). is included in the book, as well as a moving essay by his wife, Yara Badr, "Lifetimes Stolen"  on her own imprisonment, and her childhood memory of her parents' arrest and torture.
Sulafa Hijazi provided some excruciating images in a separate chapter in the book, such as this one. She speaks of "growing up in a militarized society in which everyone wore military uniforms to school, where we learned to fire weapons. "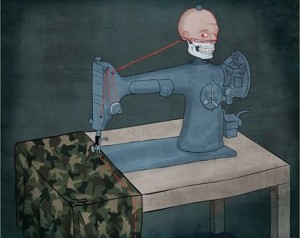 Needless to say, the presence of the internet, especially facebook and YouTube has created enormous possibilities for making sure the Syrian uprising is visible. But even with all that, it is fading from people's attention, as ISIS, an aberrant, aggressive, retrograde group takes over the news cycle, preempts twitter hashtags,( including that of the World Cup) and invades the fragile entity that is Iraq today. The fact that ISIS came out of Syria is the only connection that is made to the uprising there, as Assad's greater power gradually and tragically wears down the resistance. Given his history, I hate to think of what is going to happen next.
As Malu Halasa stated "Dreaming comes at a high cost."
The journalists speaking in London at another Pen sponsored event, "Translating the Syria News, May 29 at the Free Word Centre, London"  made it clear that ISIS is against everyone except their own extremist program. ISIS threatens intellectuals and creative people from one side, and Assad from the other.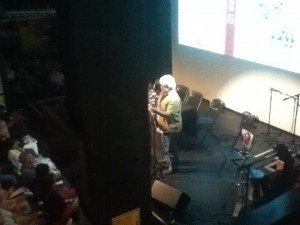 The first speaker at "Syria Speaks" for the panel was award winning writer, Khaled Khalifa ( here photographed from my perch on a balcony). He read an excerpt from his 2013 book No Knives in this City's Kitchens. The excerpt was then translated for those of us who do not speak Arabic. Khalifa is an internationally renowned poet, filmmaker and novelist, who has chosen to remain in Damascus, despite being attacked by thugs at a funeral in 2012. He stated "This is my life. When I stop writing I am dead. "
The next speaker was cinematographer/illustrator Khalil Younes. I didn't realize until I looked in Syria Speaks, that I have included his work in lectures I have given on "Art and Politics Now". He creates homages in pen and ink drawings to cultural leaders who have died in his series Revolution 2011. Here is one example of the singer Ibrahim Qashoush  the "nightingale" of the revolution. He was a fireman and a part time poet, when the uprisings began in Hama. He was deliberately murdered with his vocal chords cut out on July 4, 2011, just 3 years ago, the most explicit killing of a cultural voice in the Syrian uprising.
Other works by Younes are posted on his facebook
In the book,Syria Speaks, Younes also presented a short series of anecdotes that center around his long standing friendship with a young man who is part of the government forces. Although they are on opposite sides of the conflict, they are still friends. Younes left Syria in 1998, but has stayed in touch with him, as described in a story called "Chicken Liver." ON the panel, Younes spoke of the complexity of loyalties in Syria as exemplified in this story. Families, friends, neighbors who have been friends for decades, are now separated by the uprising or fractured by violent death.
Finally we heard from the articulate journalist Robin Yassin-Kassab who spoke of how the narrative of the revolution has been lost in international media, mired in Orientalism. His brief comments echoed the longer, analytic discussion sponsored at the Free Word Center. The panelists spoke of the mold for the Middle East as the Arab-Israeli conflict, and the emphasis on sectarian conflict. In fact the non violent protests and citizen journalists are not necessarily identified by their religion. There are collectives of civilian photographers, many new citizen powered newspapers being published, radio broadcasts. Malu quoted from Syrian intellectual Yassim al-Haj Saleh :
"There's an established approach in the Western media towards "the Middle East" in which journalists approach the region from a geopolitical perspective, treating it as an international stage for conflict. As a result, we don't see the societies involved, and we don't see ordinary people or their struggle to control their politics and their lives. Another approach looks at regional issues through the lens of religions, sects, and ethnicities, which are taken to be eternal, unchanging entities; to act as unified political blocs in all circumstances; and to be permanently fighting one another as well. There is also an inherent, fixed tendency towards Islamophobia and a false sympathy for "minorities," who are seen as perpetual victims.
We can add to all this a view that is always confined to a narrow segment of the present, leaving no room for a historical perspective or for knowledge of the phases of history these countries have traversed, their conflicts, or their societies' struggle for justice and liberation.
What completes this approach is a persistent preference for stability in the region, which means, in practical terms, standing with the powerful, who are capable of providing the goods of this stability."
Wow, that really says it all. Now we have ISIS as news preempted by yet another brutal attack on Gaza by Israel as a result of three Israeli teenagers who were found dead ( I haven't seen any speculation even on who killed them). Perhaps Israel thought their enormous brutality would be ignored as we worried about ISIS.
Syria Speaks (the link is to Saqi books the publisher, you can order it from them, I never link Amazon on this site) contains amazing art, writing, narratives, that moved me deeply. I felt my own incredible privilege and the need to immerse myself in these artists' work, to not stand by as a culture is destroyed.
There are narratives of middle class writers, just like me, but they have stood against censorship and been put in jail and tortured. There are poems by Ali Safar, 28 short fragments of heartbreaking clarity, "A Black Cloud in a Leaden White Sky, or Death by Stabs of Sorrow"
"He didn't die of a heart attack or cancer: he was killed by                  stabs of sorrow. "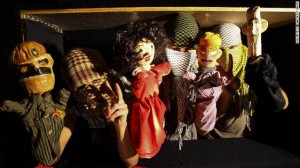 There are the finger puppets by Masasit Mati performing short satirical skits "The Syrian revolution is the only one in the world where humble finger puppets have become leading figures of opposition and dissent."
There are horrifying photographs of devastation in formerly middle class communities and photographs of beautiful children, created by the Lens Young collective in various cities (see top of post)
Comic4Syria (another facebook site) creates comic books inspired by Manga that tell the devastating stories of the uprising. They are being read everywhere in Syria and in refugee camps.
And there are the caricatures by Ali Ferzat, renowned artist who had his hands smashed by the regime. As soon as they got well he did these two sardonic images
Stencils and murals are also part of the cultural resistance, as well as graffiti in general.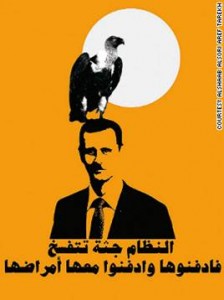 The image on the cover of the book of the boy with the sling shot originally drawn by  Mohamed Tayeb,  was adapted by the Syrian poster collective Alshaab alsori aref Tarekh after the Baba Amr massacre in December 2011 in solidarity with Syrian refugees.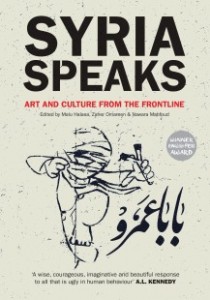 Collectively Syria Speaks paints a picture of a people who are unbeatable, but who are in a vulnerable place in their cause now, as world attention has gone elsewhere, and Assad appears to be successful in beating back the uprising. The revolutionary non violent spirit is now replaced, as poignantly referenced in the book, by a simple need for survival in the midst of violence. At the same time, the digital journalism continues online both in the Arabic world and in the Western media. The space is opened. It will only close when the last revolutionary is dead.
As miriam cooke so eloquently states: with the kinds of images that were flooding our inboxes day after day – we couldn't stand seeing yet another child's mutilated body taking in its last breath – art has to come in and do something different so that we are not numb."
On example mentioned is the work of Lebanese artist Rabih Mroue, whose "pixelated revolution" I have written about on this blog. His work is about a cell phone video which may be someone photographing his own death.
But the main message I took away from the panel discussion in London, was the sense of a surging creativity in Syria, coming from all segments of the society in many different manifestations.
One of the more intriguing essays in Syria Speaks outlined the work of a man in Dubai who actually bought the equipment being used and with a network of assistants smuggled it into the country. There were several provocative theoretical analysis in the book as well.
The panel was followed by a musical performance.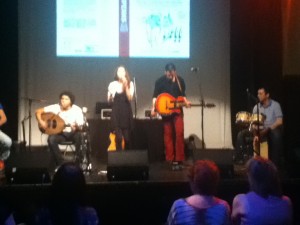 In the end I was left with a sense of the power of creativity in the human spirit. It is that power which I believe in against all odds, against the power of those who prefer arms, violence and death. In the end, hopefully, that creativity will prove stronger and prevail to create a new society in Syria.