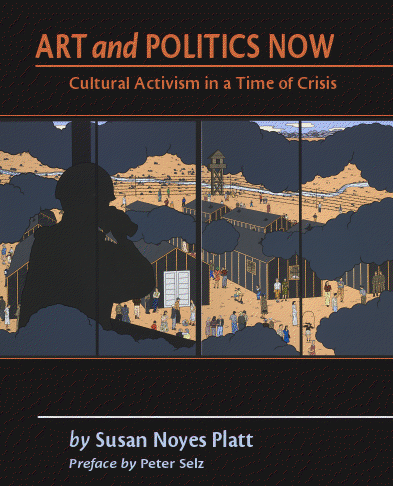 Art and Politics Now, Cultural Activism in a Time of Crisis  records some of the widespread  art activism in the first nine years of the 21st century. Its purpose is to broaden the understanding of political engagement by artists by explaining the wide range of artists who embrace political and social issues in their work.
My book begins with  examples of grass roots resistance movements that partnered with artists beginning with the 1999 anti World Trade Organization protests in Seattle. It then addresses resisting police states, women, war and  imperialism, racism, borders, and ecologies.
It also examines art exhibitions as political acts and the ways in which some artists give us a political message through seemingly contradictory means.
The book examines art from around the world, but particularly emphasizes artists in the U.S., Turkey, and other countries in the Middle East, introducing artists who in some cases were just emerging at the time of writing, but who are now well known.
An unusually wide political spectrum of artists responded to the September 11, 2001 destruction of the World Trade Center and the resulting (and ongoing) wars in Afghanistan and Iraq. The oppositional actions of many artists ceased with the election of President Barack Obama in 2009. The book ends at that time, although today in 2015-16 cultural activism is at a new level of intensity.
Themes:
Grassroots Resistance
One of the themes in this book is the relationships of visual art and grassroots resistance. It highlights Code Pink, Raging Grannies, and the Backbone Campaign, as well as groups that have roots in the 1990.s like Art and Revolution,  Ruckus Society, Amnesty International, Direct Action Network, and Women in Black. It also discusses various media prominent in grassroots activism, particularly giant puppets(Bread and Puppet Theater), photography, video, film and printmaking. Finally it considers the power of collective resistance groups among artists. The #Occupy movement is, of course another important stage of this theme, and I address that on my blog, as it emerged after the book was published. Also emerging strongly now is the increasing prominence of visual imagery in both climate change activism and  immigration activism. I am continuing to explore these two themes
Feminism
This book critiques two 2007 feminist exhibitions which continued to focus on the white legacy of 1970s feminist art that emphasizes personal issues. This perspective on feminism is frequently seen as a form of US imperialism among women from other parts of the world. Concerns about honoring the female body are referenced with a political context such as in the work of Rebecca Belmore who enacts a performance on her own body to honor murdered Native Americans in Vancouver. Another example is the representation of the murders of female maquiladora workers in Juarez in the work of Celia Muñoz.
Chapter 4, " Women, War and Imperialism," analyzes art by women that addresses the impact of war  including Guatemalan artist Regina José Galindo, Turkish artist Tomur Atagök, Latina artist Cecilia Alvarez, and US leftists Martha Rosler, Coco Fusco and Deborah Lawrence. In addition, women artists are in every chapter of the book. Artists Resist Police States includes the work of Sue Coe and Selma Waldman, both radical activists against war as well as artists addressing the disappeared in Latin America, Claudia Bernardi, and refugees from Bosnia by Turkish artist, Hale Tenger; Exposing Racism includes many women who have chosen to explore personal racist experiences in a larger political perspective: Native American artist Tanis S'eiltin, Chinese American Flo Wong, African Americans Clarissa Sligh, Marita Dingus, and Kara Walker, each addresses destructive racist experiences.
Chapter 8 "Cultural Oscillations" includes Chinese artist Hung Liu and US based, Japanese born, Maki Tamura, with the theme of moving between different countries as they translate historical styles large social issues. Borderlands emphasizes the Mexican border in the well- known writing of Gloria Anzaldúa, mural work of Judy Baca, and videos by Europeans Chantal Akerman and Ursula Biemann. Celia Munoz and others specifically address working conditions in the maquiladoras as well as the murder of women who work there.  Ecologies contrasts "enlightenment" perspectives on nature to indigenous with the perspectives of Native American writers Leslie Marmon Silko, Paula Gunn Allen, Jaune Quick-to-See-Smith, Gail Tremblay, as well as  the well known Maya Lin . In other words, feminism in Art and Politics Now places issues pertaining to women in a social and political context.
Racism
Although one of the chapters in the book specifically analyzes artists who address racist issues, this theme permeates many of the other chapters. In the chapter on Racism, I discuss two museum exhibitions that address racism in distinctly different ways, one through historic photographs, the other through direct engagement of the viewer in their own racism. Next I discuss the work of six artists who present outrageous racist actions: the taking of Native lands, the Japanese internment, school segregation and its painful partner desegregation, and slavery. In other chapters I analyze the racist aspects of war as in the cultural destruction of Iraq, and the liberating aspects of resistance culture among Chicano/as and Native Americans.
The Middle East
One of the themes of this book is the activist contemporary culture in countries like Turkey, Lebanon, Iraq, Iran, and Palestine. While modernism is still a strong tradition throughout the Middle East, it has an entirely different significance in the context of political histories from Egypt to Iran. While acknowledging this important dimension, I focus on analyzing postmodern politicized art through exhibitions seen in the US and London. In Chapter 7, I trace the trajectory of these exhibitions from alternative grassroots efforts shown in informal venues, to major displays in mainstream urban museums. The increasing prominence of contemporary art from the Middle East is a direct result of curators, critics and artists concerns over the destruction or threats to culture in these countries.  In addition, I discuss two international biennial exhibitions in Istanbul which demonstrate the responses to contemporary political events in that region.
TABLE OF CONTENTS
Preface: Dr Peter Selz
Introduction
PART I OPPOSITIONS: ANTI -WAR/ANTI-OPPRESSION
Protest Portfolio
Chapter 1 Grassroots Resistance 1999 – 2009
Definitions and Parameters
From Anti- Globalization to 9/11
9/11 and Its Aftermath
The Iraq War
Chapter 2 Art World Exhibitions 2001-2006
Changing Perspectives (2001, 2002)
Opposing War (2004 – 2006)
Opposing Censorship (2005 – 2006)
The Whitney Museum Peace Tower (2006)
Chapter 3 Resisting Police States
The Scars of Franco's Spain: Antoni Tapies
The Legacy of Latin American Dirty Wars: "Los Desaparecidos/The
Disappeared," Alfredo Jaar, Claudia Bernardi
Turkish Turmoil: Erdağ Aksel, Hale Tenger
U.S. Atrocities: Sue Coe, Selma Waldman, Fernando Botero,
Daniel Heyman, Trevor Paglen
Chapter 4 Women, War, and Imperialism
Women and War: Tomur Atagök, Cecilia Alvarez, Deborah Lawrence,
Martha Rosler, Coco Fusco
Confronting Imperialism: Dominic McGill, Nancy Worthington
Chapter 5 Racism
Exhibitions on Race and Racism: A Comparative Study
Truth, Lies and Caricatures: Tanis S'eiltin, Flo Oy Wong, Roger Shimomura,
African American Civil Rights: Clarissa Sligh, Marita Dingus, Kara Walker
PART II BORDER CROSSINGS: DEFYING DIVISIONS
Chapter 6 Political Interventions at International Exhibitions
Documenta 11 2002
Istanbul Biennial 2003 and 2007
Chapter 7 The Middle East: Art Exhibitions as Cultural Activism 2002 – 2009
Alternative Spaces: Art from Iraq, Palestine, and Lebanon
Museum Perspectives: "Out of Beirut," "Word into Art," "Without Boundary,"  "Tarjama/Translation"
Chapter 8 Cultural Oscillations: Asia/United States
Hypocrisies and Popular Culture: Masami Teraoka, Maki Tamura
From Propaganda to Dialogue: Wenda Gu
Socialist Realism Inside Out: Hung Liu, Zhi Lin
Asia Society Conversations
Chapter 9 Borderlands
Warrior Spirits: Gloria Anzaldúa, Celia Herrera Rodríguez,
Alma Lopez. Amalia Mesa-Bains
U.S. History and Politics: Judy Baca and the Social and Political Art Resource Center (SPARC)
Challenging Borders: Taller de Arte Fronterizo/Border Art Workshop
Chantal Akerman. Guillermo  Gómez-Peña
Maquiladoras and the Juarez Murders: Fred Lonidier,
Ursula Biemann, Diana Washington Valdez and Celia Alvarez Muñoz
Chapter 10 Ecologies
Indigenous World Views: Leslie Marmon Silko and Paula Gunn Allen
Jaune Quick-to-See Smith,  Gail Tremblay
Interventions in Public Spaces: Hachivi Edgar Heap of Birds, Bob Haozous,
Working Collaboratively with Public Utilities
Maya Lin and the Confluence Project
Basia Irland: Gatherings of Water
CONCLUSION