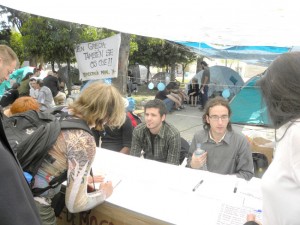 In Athens, Greece, talking to activists in Syntagma Square
Starting with my most recent gig, I now have a regular monthly column in the Leschi Community Council Newsletter which is being posted online on their website under Culture Corner! Recent articles were about the exhibition "Elles" at the Seattle Art Museum, and a comparison of two Iranian artists, Negar Farajiani who lives in Tehran and visited Seattle, and Shirin Neshat, who has lived in the US since 1977. I have also written about Tanis S'eiltin, a contemporary Tlingit artist, Tatiana Garmendia, commenting on violence against women, Carletta Carrington Wilson on the slave trade in her exquisite book of the bound, and "War is Trauma." Iraq veterans against the war collaborating with Just Seeds Collective. It appears that not all the articles have been archived, so I will put some of them here.
Women are Coming see also my blog about this exhibition
Tanis Seiltin see also my blog about her show ( second half of post)
Another recent online affiliation is Ultra Extra where I wrote an article on the Dandies of Brazzaville called the Sapeurs.
I also did a review for a literary journal Ravens Chronicle called "Occupy Seattle Comes to My Living Room" A review of a play called "Somehting I Can Do: Voices from Occupy Seattle."   For some reason I didn't take pictures at the event. But here are images from  Occupy Seattle.
Background
I have been writing art criticism since the late 1970s. My first articles appeared in Artforum,  reviews of exhibitions in various galleries in Houston, Dallas, Austin, and San Antonio.
I subsequently moved to California and wrote for
Art week for several years, then the New Art Examiner while I was based in DC for a year in 1987. When I returned to Texas in 1989 I began to write for the Dallas Morning News as well as Art Papers, an affiliation that continued for almost ten years. When I moved to Seattle Washington I became a contributing editor of Art Papers and recruited other writers, particularly writers of color. That relationship continued until 2003.
Recently I have been writing for Sculpture, local publications, (see above my monthly column) as well as focusing on my blog. The articles listed below have not been digitized. At the time that I wrote them the artists were frequently much less well known than they are now. Websites did not yet exist.
I will be scanning some of these older articles gradually, adding them to the articles already on the site. What gave me great pleasure was that frequently artists would write to me and thank me for my review, so I think they are worth putting back in circulation.
In addition, I have this strange profile of starting at the top with Artforum and gradually writing for increasingly obscure publications like the local paper I write for today. The editor who most promoted my work was Michael Pittari at Art Papers. Glenn Harper at Sculpture is also a wonderful editor. Because of my current geographical location and the state of the publishing industry, as well of art coverage in general, I am thankful for my blog. I am free to express opinions that would never be published in reviews.
Early Writing
Texas
"Fort Worth,"(Roy Fridge) Artforum,  September, 1980
"Dan Flavin's Factual Fantasies," Artweek,  January, 1980
"Dallas,"(Robert Tiemann) Artforum,  April, 1980
"VernonFisher."Arts Magazine  February,1980
"Earl Staley, New Work," Artweek,  March, 1980
"The Aesthetic Side of Christo," Artweek,  1979  September,
"Women in Sight: Issues of Quality, Quantity, Politics," Artweek,  November,1979
"Houston/Austin," (Sam Gummelt, Michael Tracy) Artforum,  October, 1979
"Dallas/Houston," (James Surls, Tom Sayre) Artforum, June, 1979
California
"Art for the New Apocalypse," Artweek, February, 1985
"The Responsive Machine," Artweek, March,1985 (Jack Dollhausen)
"Book Review: Modern Art and Modernism," Artweek, November, 1983
"Connecting with the Primal," Artweek,  November, 1983 ( Review of Lucy Lippard's book)
"Helen Mayer Harrison and Newton Harrison: An Urban Discourse," Artweek,  May,1983 ( based on a project in San Jose)
"Artists Who Draw," Artweek, January, 1983
"Hudson's World,"Artweek,  December 1982
"San FranciscoInternational Video Festival,"Artweek,  December 1982
"Franz Kline," Artweek,  October, 1982
"Testing the Studies: Eve Hesse,"Artweek,  October 1982
"Vito Acconci: The Sheltering City," Artweek,  September, 1982
"Personal, Modern Eccentric,"(Surls, Burton, Shapiro) Artweek, August, 1982
Washington, D.C.
"Sculpture for Walls," New Art Examiner,  May  1987
"Luis Cruz Azaceta,"New Art Examiner, September 1987
"Notes on New Talent," New Art Examiner, October 1987
"Feminism, Politics and Social Commentary," New Art Examiner, November 1987
See tabs under art critic for later writing.