Susan Noyes Platt was born in New York City. She grew up roller skating on the streets of Manhattan. She played in Gramercy Park which had absolutely no provision for children. The ground was harsh pebbles, the grass surrounded by hedges. The fences were spikey. There was not a single swing.
She first became interested in art as a student at Friends Seminary, a Quaker School that encouraged equality. All the girls took shop, all the boys took art.  When she almost won an award at the age of 9 for a design for Christmas card, her love of art began.
Growing up in NYC shaped her for life. In no other city do all types of people constantly interact on the public transportation. In no other city,  does the street life of the city encourage people to talk to each other and the intense energy of the city leaves no time for the soft edges and meaningless flourishes that characterize interactions in other parts of the country.
She left NYC when she was 18 to go to Mount Holyoke College in Massachusetts because she loved the idea of being out in the country. She went there as an English major but quickly switched to art history after discovering that her strengths were in analysis and ideas, rather than in grammar. Classics in translation was her favorite course.
She started studying archeology, inspired by brilliant teachers in college especially Valentine Giamatti, the Italian professor who had a personal collection of Etruscan art and illustrated versions of the Divine Comedy. "Lascia ogni speranza, voi che entrate . . " As a result of his collection and an independent study of Etruscan cinerary urns, she went on an Etruscan archeological dig in the summer of 1968 in Orvieto with the eminent Professor Mario Bizzarri. After a year in Italy studying mainly architectural history and Italian Renaissance iconography, she became fluent in Italian.  For her first masters degree she wrote on "Giambologna as an architect" based on a privately owned Italian villa near Florence.
She became interested in contemporary art during her first professional job at the Rhode Island School of Design Museum, with the brilliant contemporary art historian and curator, Daniel Robbins. Their biggest project was a retrospective of Joaquin Torres-Garcia that was shown at the Guggenheim Museum and the National Gallery of Canada in Ottawa. In addition, she wrote catalogs on the collections of American art drawings and collaborated on a  catalog on British watercolors as well as many other exhibitions.
She got a Masters degree  at Brown University and then a Ph.D. at the University of Texas, Austin, and began an academic career as a Professor of Twentieth Century art with a parallel career as an art critic.
As a Professor of art history with an emphasis on the history of twentieth century art criticism and American art, she taught at Mills College in  California, Washington State University, Pullman and the University of North Texas.
Her dissertation was published as Modernism in the 1920s UMI Research Press, 1985. Her second book , Art and Politics in the 1930s, Midmarch Arts Press, 1999, led her from modernism into an interest in the connection of politics and art. She received tenure at both WSU Pullman and UNT.
She then moved to Seattle, Washington with affiliations at the University of Washington, The Evergreen State College and Seattle Central Community College.
In the mid 1990s she served on the board of the national Women's Caucus for Art, meeting many powerful women artists who have become life long friends. She also helped to organize a delegation of 100 women to China's NGO conference in 1995. Here she is receiving the Kathe Kollwitz award from the WCA.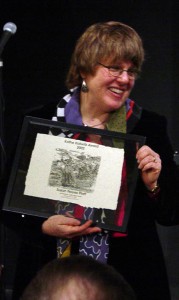 After publishing many articles that focused on the history of art criticism in the US she made an abrupt change of direction as a result of receiving a Fulbright Fellowship to teach American art in 1999 in Istanbu,l Turkey. In Istanbul she met many artists and began to write about contemporary art in the Middle East as well as global art at Biennials.
Today, she is based in Seattle and her main interest is in writing about art that engages social issues. That is the subject of her most recent book Art and Politics Now, Cultural Activism in a Time of Crisis. Midmarch 2011. The book includes art from throughout the world, reflecting her own migration.  She has also curated three exhibitions, "The Global Art Coalition," The Art of Selma Waldman" and "Cultural Activism in at Time of Crisis" at the M. Rosetta Hunter Gallery, Seattle Central Community College directed by Ken Matsudaira.
As a critic,she has written for national and international publications, but she mainly focuses now on her blog on this site, a monthly art column in a community newspaper, and Raven Chronicles, a literary magazine based in the Northwest, as well as various online publications.
Last, she is a political activist. She participates in demonstrations in support of better immigration policies,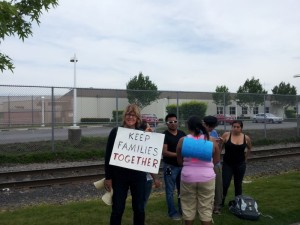 in support of Gaza and Palestine with Palestinian Solidarity,
and SHARE/WHEEL homeless empowerment project.