Future Project: Internalized Borders

Ricardo Gomez, Portrait of a Migrant, mixed media
"INTERNALIZED BORDERS"
Presidents Gallery at John Jay College
February 14 – April 13, 2018 Reception February 14
Curated by Maria De Los Angeles, Artist and Susan Noyes Platt, Ph.D., curator, critic
The artists included for our exhibition "Internalized Borders" address identity and migration. This exhibition will be a visual conversation examining the various ways that language and legal systems construct otherness.
---
Current Project: Immigration: Hopes Realized, Dreams Denied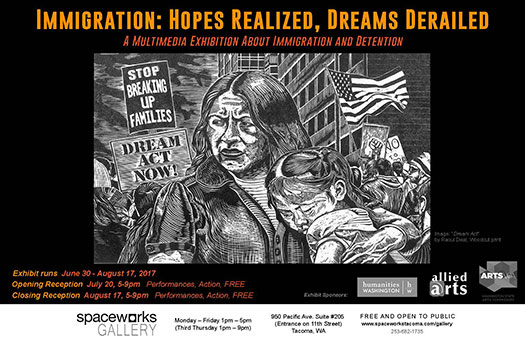 Exhibit Runs June 30 – August 17, 2017
Opening Reception July 20,
Performances, Poetry, Music, FREE 
Link to event on Facebook
Closing Reception August 17, Politics, Poetry, Music, FREE  
Link to event on Facebook
Immigration: Hopes Realized, Dreams Derailed is a multimedia exhibition about immigration and detention on display at the Spaceworks Gallery.
Curated by art critic Susan N. Platt and mural artist David Long, the exhibit addresses the urgent issue of immigration from multiple perspectives. It features intense work by undocumented immigrants, former detainees, current detainees, DACAs (Delayed Action for Childhood arrivals), college students, grass roots activists, self- taught artists and professional artists.
The exhibit includes paintings, sculptures, collages, glass arts, films, photography, and videos. The works range from heartfelt to playful, interactive to informative, and poetic to didactic.
---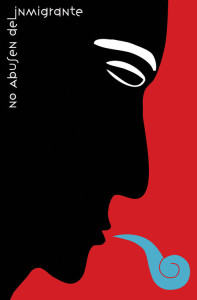 The Migration Project is making migration visible through art exhibitions. So far it has included three displays of the portfolio Migration Now published by Just Seeds and Culture Strike, one example above from Migration Now portfolio.
I curated "Migration" with  three artists with diverse perspectives.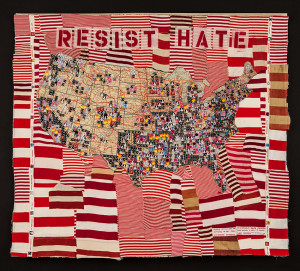 This amazing collage is one of the new works created for the exhibition by Deborah Faye Lawrence. It is based on the Southern Poverty Law Center map of hate groups in the US. The different colors represent different types of hate. The density is horrifying. Her message is powerful.